Gain the competitive advantage
Digitalise your business document processing and optimise your operational efficiency with agile and scalable EDI solutions.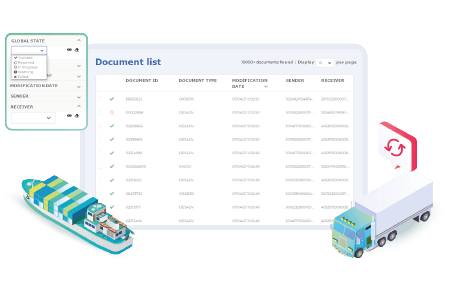 They trust us to manage their trade in the transport and logistics sector
Connect and Accelerate your supply chain
Many paradigm shifts are impacting the services offered by transport and logistics organisations.
The increase in international cross-border trade, the requirement to connect to new players disrupting established partnerships, the dynamics of new transport modes and logistics models all require the implementation of a flexible and scalable EDI solution.
EDT is partnered with and trusted by many major logistics and transport service providers.
We clearly have better follow-up since we have a dedicated project manager
Case study
Discover how SERVAIR receives and efficiently processes all of its supplier invoices
Process transport orders with speed and efficiency
Simplify and make transport orders more reliable by digitalising and automating your processes.
Monitor the status of your business documents in real time
Control your data transfers with full visibility of your orders, shipping notices, receiving notices, invoices, etc. from any source and any format.
Transparency of your cash flow, anywhere, anytime
Sustain the quality of your customer-supplier relationships by opting for automated management of all your electronic invoices.
Comprehensive solutions based on state-of-the-art technologies
Streamline the management of your data exchanges and optimise your supply chain using our customised and sustainable solution suite.
Leading technologies

As an exclusive partner of IBM and Opentext solutions in the UK and France, we implement high-performance EDI platforms

Consultancy

Our EDI, EAI and MFT specialists, are committed to listening to your challenges and needs

Flexibility

We adapt our solutions to your business needs and to your trading requirements.
Improve your data efficiency with our tailor-made solutions
Contact our Sales team to find out more about how we can help you optimise productivity