Simplify your media procurement processes
Process orders and send invoices in compliance with the Sapin Law with confidence and ease by implementing EDT's EDI solutions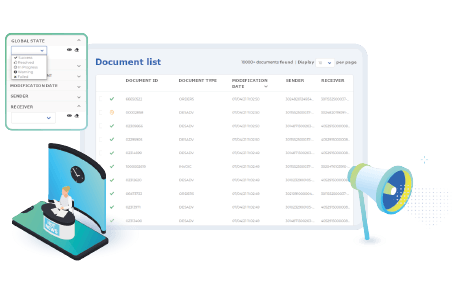 They trust us to manage their trading processes in the media and advertising sector
Enter the world of real time
The needs of media, agencies and publishers have changed significantly over the past 10 years, with digital transformation, the emergence of new advertising communication channels and formats – such as TOP XML, the insertion order method has been transformed into a programmatic approach, based on an auction logic.
These innovations require flexibility and collaboration from the sector's key participants, and EDT at the forefront of working to simplify and automate purchasing processes within the advertising world.
We rely on EDT, everything works perfectly
Automate your ad booking and much more
Accelerate exchanges between the advertising agencies, advertisers and media agencies in your ecosystem by entrusting the digitalisation of data flows to our expert teams in the sector.
Compliance with efficiency and visibility
Boost your productivity and efficiency by dematerialising and automating your customer and supplier invoicing process, in compliance with the Sapin Law and industry requirements.
EDIPUB partners
Since 2000, EDT has been a member of EDIPUB, guaranteeing you solutions adapted to the specificities of the media and advertising sector.
Anchored in the world of advertising
We have built strong relationships with media planning publishers and agencies to cement our credibility in this sector and ensure that any project is completed quickly and with extensive compatibility.
Comprehensive solutions based on state-of-the-art technologies
Streamline the management of your data exchanges and optimise your supply chain using our customised and sustainable solution suite.
Leading technologies

As an exclusive partner of IBM and Opentext solutions in the UK and France, we implement high-performance EDI platforms

Consultancy

Our EDI, EAI and MFT specialists, are committed to listening to your challenges and needs

Flexibility

We adapt our solutions to your business needs and to your trading requirements.
Improve your data efficiency with our tailor-made solutions
Contact our Sales team to find out more about how we can help you optimise productivity